Shout out to all the hard-working Irish livestock farmers during #calving2020 and #lambing2020!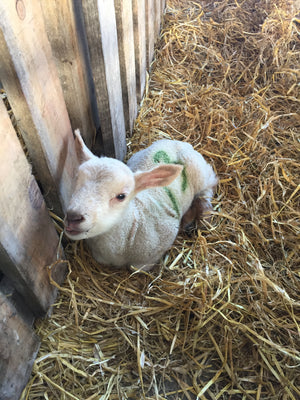 The 12 week period from mid-January to mid-April marks the busiest time on Irish livestock farms, with the calving and lambing season in full swing. The Irish farming model of maximising utilisation of grass for livestock production is the driving force for this intense period of new life arriving on Irish farms. Over this early spring season, in excess of 2.2 million calves will be born between the dairy herd and the beef herd, and up to 4 million lambs will be born.
On the dairy farms, calving, milking, transitioning cows from winter housing to pasture, and feeding calves ensures that all hands are on deck on most of Ireland's 18,000 family-run, dairy farms. Average dairy herd size in Ireland is approximately 80 cows, but a growing number of dairy farms can exceed 250 cows. In both these scenarios, a multi-faceted skill set is required by the labour force to ensure smooth running during this busy period.
Average herd size for a beef breeding herd is significantly smaller than the dairy herd, at an average of about 15 cows, but none-the-less, the workload and skillsets required by beef farmers is similar to their dairy farmer counterparts. A considerable number of beef farmers in Ireland may be "part-time farmers", and have to juggle the demands of the busy calving periods alongside their off-farm job.
Average sheep flocks in Ireland stand at about 100 ewes, with some exceptions exceeding 500 ewes. For a variety of reasons, it is necessary for newborn lambs, along with their mothers, to be turned out to pasture within a few days of birth. Challenges can arise for sheep farmers in this regards when weather conditions are less than favourable around this time.
A further common feature of Irish farms will be the prevalence of mixed-farming enterprises, i.e. dual beef and sheep production, or dual beef, sheep and arable cropping. Such farmers consequently have a mixture of all the challenges outlined above.
At this time, these livestock farmers are working incredibly long hours. Whilst technology has helped through the use of cameras and calving alerts etc, it can never replace the need for caring and vigilant farmers, that have the health and welfare of their animals to the forefront at all times. These hard-working farmers deserve our appreciation and acknowledgement at this exceptionally busy time!
If you would like to learn more about Irish dairy farming or wish to take a tour with us and visit such farms in person, then contact us today on hello@farmtoursireland.com or +353 87 2227869.
---
---
Also in News
The 2019 grain harvest is underway. Learn about the importance of both the cereal grains and straw for Irish agriculture
February marks the start of the main calving period here in Ireland. Until May approximately 1.5 million dairy calves will be born. This block calving in spring time is primarily operated so that cows are calving close to when grass begins to grow rapidly and differs from that witnessed in many dairy regions throughout the world.
We take a brief look at the main happenings in Irish agriculture this Spring 2018.